MKC EVENTS is recruiting a Community Manager to reinforce the ZIMIX FESTIVAL communication team….
MKC brings you the latest monthly news from the world of music, culture and events. Stay connected with your favourite musicians!
A festive evening in Lausanne, on the first weekend of the summer, under the sign of the openness and diversity that Switzerland embodies. Afro music in the spotlight!
Let's celebrate African musical diversity with the ZIMIX Festival 2022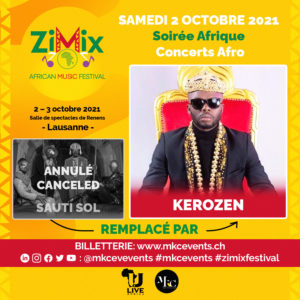 MKC EVENTS regrets to announce the cancellation of the SAUTI SOL concert scheduled for Saturday 2 October at the ZIMIX Festival due to the fact that the Schengen visa was not obtained. The most popular Ivorian artist KEROZEN and his musicians will replace the group.
Read More »