Video presentation of the Concert event
Mario MOMO invited on the programme Le Grand Soir de la 1ère on 21.10.2021 to answer questions on the organisation of the concert
Interview with Richard Bona in the radio programme ECHO DES PAVANES on Espace 2
Richard Bona with Alfredo Rodriguez's band: two brilliant virtuosos who exchange the most beautiful melodies with a smile, improvise vertiginous lines with brio and, on 23 October 2021, will have us dancing in the Renens auditorium. Because that's how their music speaks: through the heart and through the body. Add poetry, fire and sweetness, and you have all the ingredients. Richard Bona's Africa connected to Alfredo Rodriguez's Cuba, that's telling a part of the history of humanity through music. Speaking to Ivor Malherbe, Richard Bona tells us more about this project and the strong roots of his talents.
Richard Bona confirmation video
Richard Bona has a message for you from the RTS studio in Paris for his great Afro Cuban Jazz concert with his friend Alfredo Rodriguez!
Rapid antigen test offered at entry
Good news for unvaccinated people coming to the concert!
Rapid antigen test without an appointment in front of the concert hall entrance for CHF 40.
MKC EVENTS will not leave anyone outside. In exchange for your test, you will receive a voucher worth CHF 20 (i.e. 50% of the value of the test) to be used at the bar.
MKC EVENTS is showing solidarity and is playing the collective immunity card by applying the federal directives which require events to demand a valid COVID CERTIFICATE according to the rules in force laid down by the FOPH.
For your comfort and safety, you can only enter the event with a COVID CERTIFICATE. The certificate is compulsory from the age of 16. It implies constraints, but allows the public to drop the mask, to move freely without restriction and to consume food and drink freely.
PRESENTATION OF THE EVENT
RICHARD BONA & ALFREDO RODRIGUEZ Band
▬▬▬▬▬▬▬▬▬▬▬
Door: 8 pm | Show: 10 pm
▬▬▬▬▬▬▬▬▬▬▬
EUROPE TOUR 2021 IN LAUSANNE
After the Montreux Jazz Festival 2016, MKC EVENTS is pleased to announce the return to Lausanne of one of the world's most famous jazz bassists and singers Richard Bona and the talented pianist Alfredo Rodriguez, well known on the international scene, for an exceptional concert on Saturday 23 October 2021 in the mythical Salle de spectacles de Renens. They will be accompanied on stage by other artists. This new concert will mark the return of the Duo on the Swiss scene.
Grammy-nominated Richard Bona and Alfredo Rodriguez became aware of each other's talent through their common mentor, Quincy Jones. The career of the Cameroonian bassist and singer has sent shivers down the spine of jazz musicians across the globe. While the Cuban pianist is a rising star on the new jazz scene. After years of friendship, the duo entered the studio to work together on Rodriguez's album Tocororo, which was produced by Quincy Jones. On this album they released two songs together, Raíces (Roots) and Ay, Mamá Inés, which show how their unique musical backgrounds can come together to produce inspiring sounds.
The mixed sounds of Alfredo Rodriguez and the groove of the brilliant Richard Bona come together in an exciting project. The duo can now be seen together on the Netflix documentary, GRAMMY QUINCY winner. They are back in the studio and creating new music together which they will tour around the world in 2021. This concert will mark the return of the Duo on stage in Switzerland.
Fans of Afro, Jazz, Afro-Cuban Jazz music, we invite you to an inspiring and exceptional concert with this duo that has talent to spare!
The following artists will perform in the opening and afterparty: Ivan Larson, Black Voices Combo, Afra Kane (solo), Marcus Lyon.
Performance by the duo R. Bona & A. Rodriguez
Performance of the duo with QUINCY JONES in the Netflix documentary
MKC EVENTS offers you an exceptional evening that includes a great Afro-Cuban Jazz concert and a dance party.
Before and after the wonderful concert, we propose an evening where you can dance under the turntables of Marcus Lyon and Black Voices Combo around afro and latino music!
The bar as well as an exotic culinary tasting counter will be at your disposal to treat your taste buds and quench your thirst!
You are eager to relive the emotions you have missed so much, so are we!
The event will feature an exceptional live concert by the duo Richard Bona and Alfredo Rodiguez Band, as well as an opening act and an after show by several artists.
OPENING ACT AND AFTER SHOW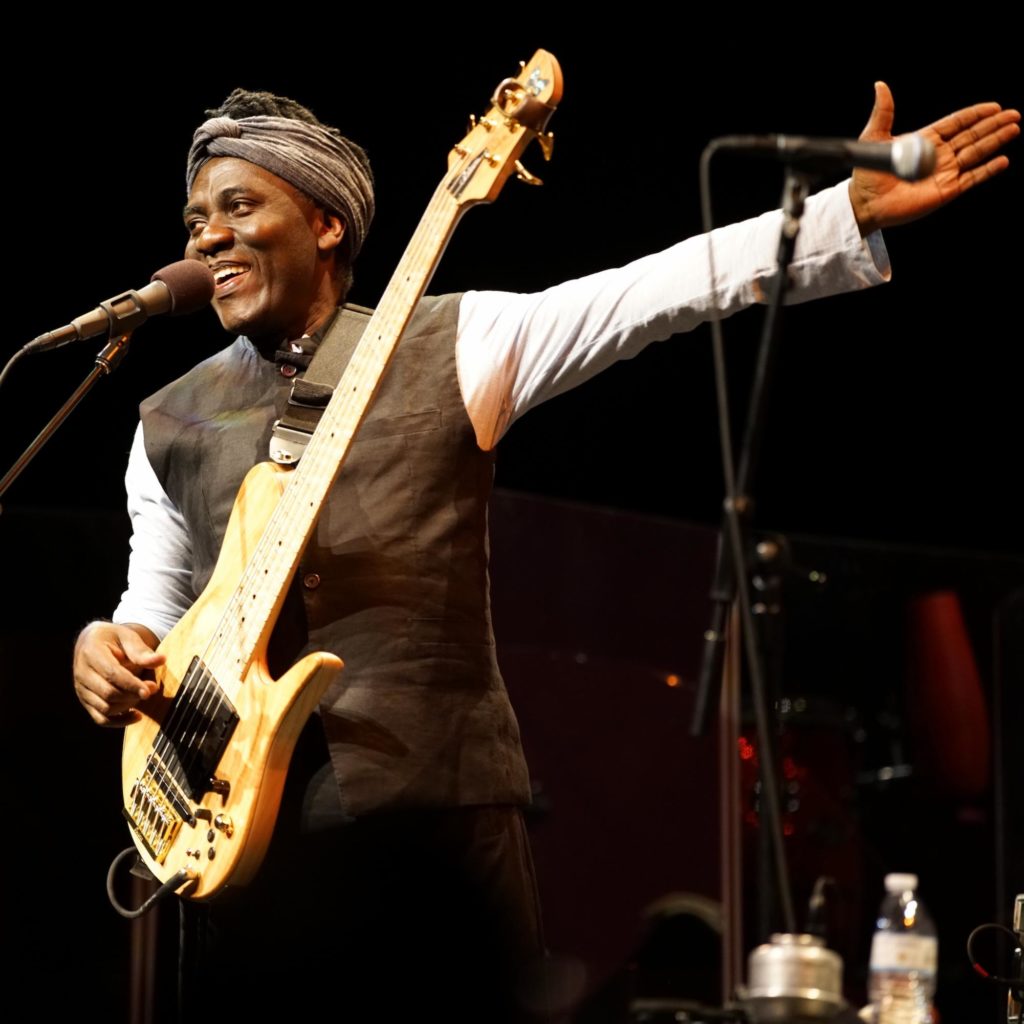 Richard Bona's seemingly effortless voice, ferocious bass skills, unique compositional and arranging expertise and ability to learn any instrument just by looking at it, position him as a rare African artist who has forged an inimitable reputation on an international platform.
Originally from Cameroon, Bona began touring with Pat Metheny, appeared as a guest on two of Bobby McFerrin's albums, and was recognised at the Victoires du Jazz Awards where he won the trophy for "Best International Artist of 2004". In 2005, Bona appeared on Mario Canonge's album Rhyzome and contributed to the soundtrack of Pascal Plisson's film Massai, les guerriers de la pluie.
Also known for his role in the band Steps Ahead, Bona has performed on many stages such as the Adelaide International Guitar Festival and with many celebrities such as John Legend for Bona's album, Tiki, which was also nominated for a Grammy in 2007 for 'Best Contemporary World Music Album'.
He was also awarded the prestigious SACEM Grand Prix de Jazz in 2012 for the Grand Prix de Jazz. In addition, his RIAA gold album, Bonafied, catapulted him to redefine his sound and release his album, Heritage, with his Afro-Cuban collective, Mandekan Cubano.
Bona's six-piece band includes two percussionists who make this celebration ripple and soar. With numerous awards, performances and years of expertise, Bona has become one of the most accomplished and sought after musicians of this generation.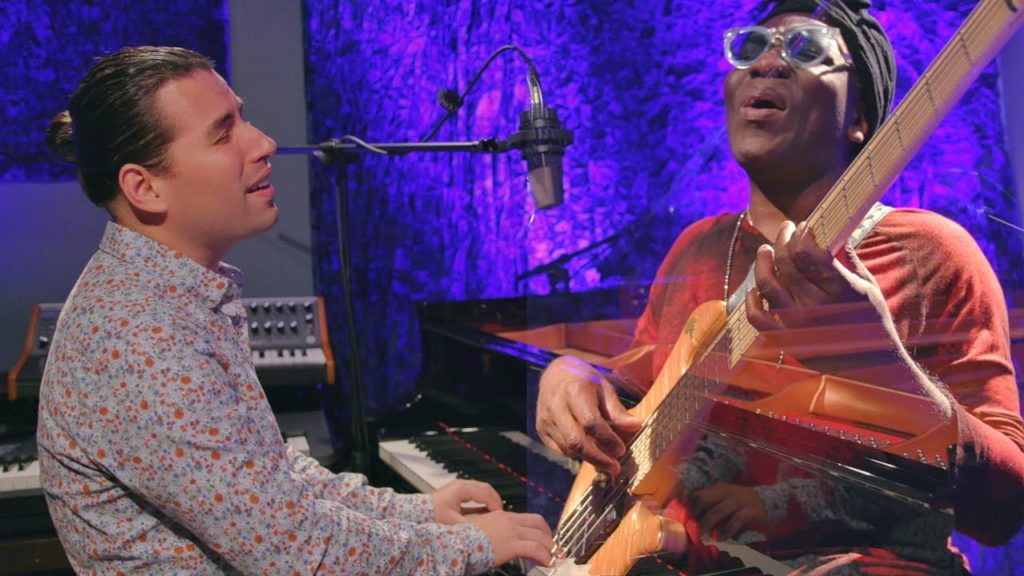 A GRAMMY-nominated pianist, composer, arranger and producer. After meeting Quincy Jones at the Montreux Jazz Festival in 2006 and receiving an offer to collaborate, Alfredo emigrated to the United States to pursue his dream of becoming an internationally renowned musician.
He represents a new generation of Cuban musicians who combine classicism, tradition and popular rhythms, modernity and pop influence; he even transforms hits such as Michael Jackson's Thriller or the theme from Super Mario Bros into a Cuban twist; this earned him a Grammy nomination.
Over the past decade, Alfredo has gone from a local Cuban artist to an internationally recognized GRAMMY nominee, with five critically acclaimed releases on Mack Avenue Records: Sounds of Space (2011), The Invasion Parade (2014), Tocororo (2016), The Little Dream (2018) and Duologue (2019)
OPENING ACT AND AFTER SHOW
Winner of the 2019 Montreux Jazz Talent Award, Afra Kane is an Italian pianist, singer and composer with a wide variety of musical and cultural backgrounds, resulting from different influences of Classical, Jazz, Motown and Afro-gospel music. His music is a beautiful blend of jazz nuances, embedded in classical influences, balanced by a powerful voice.
She has just released her new single 'Building' which has been very well received by radio stations in Switzerland and Europe with appearances on BBC introducing and Jazz Fm. Her single "Mouth Shut" was selected as 'record of the week' on BBC introducing last year and her debut EP "Scorpio", released in January 2019 and self-produced in collaboration with Christophe Farine, saw her selected for the Montreux Jazz Live Talent Awards.
Afra Kane was the guest artist on Jack Savoretti's Italian tour, in Padua, Milan and Rome respectively. She has performed at venues such as the Bee-flat, Festi'neuch, Montreux Jazz Festivaland the St.Moritz Jazz Festival and Rockwood Music Hall, NYC.
Elle a participé au Montreux Jazz Academy sous la direction artistique de Snarky Puppy, et le mentorat de China Moses, Anne Pacéo et John Mclaughlin.
His latest release is his single 'Building'. She will be the opening act for the new concert by Richard Bona & Alfredo Rodriguez Band
About IVAN LARSON X CUBIQUE
Dancer, choreographer, dance teacher, Ivan Larson teaches in various institutions such as the Conservatoire Populaire of Genève or in his own dance school LAR & LEV, recently created in Geneva.
Passionate about dance from an early age, he trained in several urban disciplines.
His participation in numerous shows, competitions and events (the most notable of which, finalist of the Juste Debout Suisse House in 2017 or choreographer at the Afrodyssée fashion show) have allowed him to develop his style and put his own stamp on it: African dances, HipHop and contemporary dances. The jack-of-all-trades doesn't stop there, he is also the president of an association "On Est Ensemble – Switzerland" which aims to promote the exchange between urban dances in Switzerland and throughout the world.
In the same way Ivan joined forces with the Swiss collective cubique, to create a video released 3 months ago.
Cubique is a group of creative people who, through the art of dance and video, bring to the forefront the problems and thorny issues of our society. They have been nominated and won several film festivals with their productions, such as the Aesthetica Short Film Festival or the Human Right Film Festival, cubique gives a platform to the dancer to tell their story through dance, but takes care to use the final product – videos between 3 and 9 minutes – to animate the discussion of the issues at stake, within our society. As the Parisian blog "BlackSquare" wrote about cubic:
"The performances of the cubic collective are not anecdotal. Physically or intellectually, the project seeks to make us fit into a box to better deform it, to shape it to our images, according to our experiences.
Here, going beyond the limits is far from being forbidden, in fact it is strongly encouraged."
For their joint projects, Ivan Larson and cubique have chosen to address the theme of the human relationship with nature. "Ubuntu" means in short: I am because you are.
Humanity thinks it has invented everything, but it has only imitated nature. – Ivan Larason
A dance video with the song "Tumba la Nyama" by Richard Bona on the same theme.
Ivan Larson said two years ago after the video was shot:
"And perhaps, God willing, the video will please Richard Bona himself.
He will be the opening act for the new concert by Richard Bona & Alfredo Rodriguez Band
AFRO, TROPICAL & FUNK with theBLACK VOICES COMBO, a percussion and vinyl dj duo
With a CUBAFRICA atmosphere from the 60's-70's-80's to today with a mix of pan-African salsa, rumba, West Indian music, Cuban, Puerto Rican or Colombian ffluves, makossa, Cape Verdean coladeiras. BLACK VOICES COMBO is preparing some incredible selections for you.
This explosive formula of BESANÇON made people dance from France to Switzerland through Belgium in the first part or after show of various renowned artists: Flavia Coehlo, Fatoumata DIAWARA, Winston MC ANUFF, La Dame Blanche, Keziah Jones, Maceo Parker, Vaudou Game, Asa, Ayo, Lindigo, Calypso Rose, La Yegros, Tp Poly Rythmo de Cotonou, Faada Freddy, Titi Robin, Staff Benda Bilili
Line up : Fabrice Dagobert, percussionist (congas/bongos) and Mat BLACK VOICES (vinyl DJ / radio host / speaker)
The band will be the opening act and the after show of the new concert of Richard Bona & Alfredo Rodriguez Band
With an experience of more than 15 years in the event industry, Marcus Lyon is a DJ & MC of Cameroonian origin and Belgian culture who made his first steps on the decks of the salsa bar in Brussels. With a residence established today in the canton of Vaud (Switzerland), the full-time nurse (Marcus Lyon), declines the offers of resident DJ in clubs that open their arms to him, to launch himself in 2010 in a style of his own, which he calls: DJ & MC for mix and remix live stage It is in this very precise style that he will distinguish himself and will have the chance to accompany on stage renowned musicians as well as young artists of the Belgian musical scene.
He has also been able to perform on club and lounge stages, for private events. You will have understood it is a DJ & MC who mixes and remixes Urban in a style of his own: THE REMIX LIVE STAGE.
From this set of anglicisms, the rhythms he masters with passion are AFROBEAT HIP-HOP / DEEP HOUSE RNB / KIZOMBA / NAIJA OLD SCHOOL /DANCE HALL
As a newcomer to the Vaud region, Marcus Lyon has already performed at a number of major events:
DJ & MC for major Riviera matches
Lakers for the 2018/2019 season MC for the concept
Fawless au MAD sis à Lausanne
DJ & MC for MKC EVENTS at the super production of the international artist Flavour 2019
DJ & MC for many Queency parties in Lausanne 2019
DJ & MC on August 1st for a great Urban & Latino night at the bar des îles during the : Fête des vignerons 2019
DJ & MC at the Carré in Vevey for an Urban & Latino party 2019
DJ & MC at NOWADAY in Vevey for a Halloween party 2019
These brands seized the opportunity offered by MKC EVENTS to get visibility among the public present at this great Afro-Cuban Jazz event in Renens !